» Online Users: 61
31 members and 30 guests
altha, aspire2008, Cain, Camdenbrown, Chuckles, Dead, Dealings, Dono, drgreenthumb, dulak, evilbarney, expmonk, funwha, Huseng, imgregrice, je5terhead, jumperj101, kellzmag, killerdog1, kombat, Mallachi, marmy, mcarpe, nortyman, okcmagistrate, po12286883, SHV126, stickontattoos, Tapout, Ugak, VoidRay
Most users ever online was 530, January 31st, 2015 at 02:39 PM.
» MacroQuest2 For EverQuest
MMOBugs is an EverQuest largest MacroQuest2 community which is focused on providing highly customized versions of MacroQuest2 for easy downloading. MacroQuest2 is an addon program for EverQuest that allows you to alter your EQ client to do such things as displaying mobs on your ingame map or to fully automate your ingame character. Along with MQ2, we also offer the latest information on cheats, hacks, guides and a marketplace for EverQuest.

Due to the time required to keep MQ2 updated with the latest EQ changes, MMOBugs requires a membership fee for access. Membership is as low as $7.50 a month for a year subscription. To get started you must first Register on our forums then purchase a MMOBugs Subscription with Paypal.

If you have any questions on concerns please don't hesitate to Contact Us.
OurPlat Alienware Laptop Giveaway For March 2015
Mar 08, 2015 - 5:10 PM - by Fry
OurPlat Alienware March Giveaway



OurPlat are giving away another brand new Alienware Laptop to one lucky customer in March. To enter, all you need to do is spend $10.00 or more at OurPlat.com between March 1st, 2015 and March 31st, 2015. For every $10.00 spent, you will then get one entry for the Alienware Laptop giveaway, along with the the other great prizes.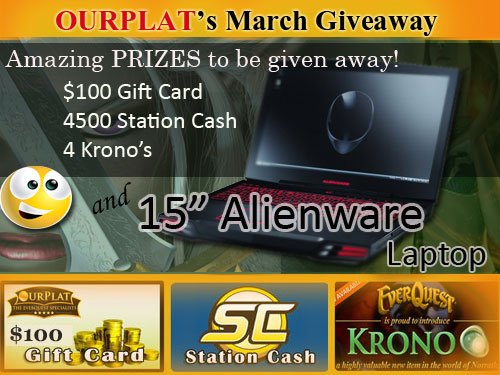 1st Place: 15" Alienware Laptop, Intel i5 3.50Ghz Processor, 8GB RAM
2nd Place: OurPlat Gift Card - $100
3rd Place: 4500 Station Cash
4th Place: 4 Kronos


How It Works:
For every $10.00 you spend on OurPlat, you will get one entry. Spend $20.00, get two entries. Spend $250.00, get 25 entries. It's as easy as that. At the beginning of April, all entries will be calculated and four random participants will be selected as winners. The more entries you have, the higher your chances of winning.

Free Entry:
Want a free entry to the giveaway? Post, your favorite MMORPG Expansion on the OurPlat Facebook Page for a free entry.

There is no limit to the number of accumulated entries for the raffle. Drawing will be held on the 2nd of April 2015 and winners will be contacted on the same day. Any prizes unclaimed after 14 days will be redrawn.

OurPlat offers MMOBugs members an exclusive discount code, use the coupon code MMOBugs10 on checkout for an additional 10% off Platinum and Powerleveling prices.

What OurPlat Does:
OurPlat offers 24/7 delivery of Platinum, Krono's, powerleveling and Game cards for EverQuest, EverQuest 2 and Runescape. Our delivery speeds are the fastest in the industry with average platinum delivery time being around four minutes. Platinum for regular servers starts from as little as $19.90 per million Platinum and Krono's at $15.99.


2 Replies | 277 Views